ADA Paratransit Service
Your Ticket to a Smoother Paratransit Trip
Did you know Pace ADA Paratransit offers a variety of easy-to-use tools that can help make your experience even better? One of the simplest steps you can take to make your next trip smoother is to pay in advance with Ventra on Paratransit. Click and play the video to learn how.
Learn more about using Ventra on Paratransit before you book your next trip by clicking on the link below.
There's more than one tool to take your Paratransit trip to the next level.
TripCheck helps you keep track of all you your Paratransit trip information, enabling you to set reminders and easily cancel scheduled rides without calling Pace. 
New to Pace ADA Paratransit? Click and play the video to learn how to ride like a Paratransit Pro. We'll teach you all the key steps you need to know to make your trip smooth and successful. From planning which ride is right for you to booking your ride and boarding the bus to get you where you want to go on time. And if you still have questions, click the links below to learn more.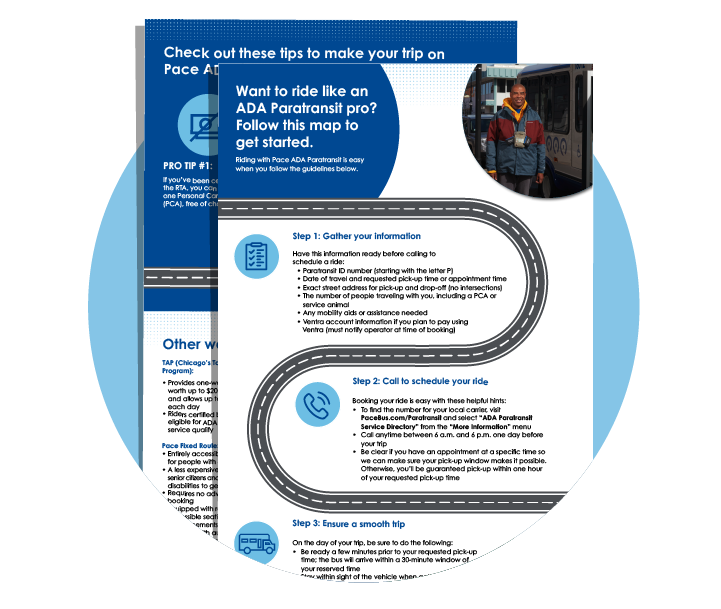 Become an ADA Paratransit Pro
We've mapped out the simple steps riders can take to have a successful trip on ADA Paratransit.
ADA Paratransit Service
This paratransit service is required by the federal Americans with Disabilities Act and is provided for customers whose disability or health condition prevents them from using CTA and/or Pace fixed route services for some or all of their travel. Only persons who are certified by the Regional Transportation Authority are eligible to ride ADA Paratransit. Trips are only provided at the same times and within the same geographic areas as fixed route. Pace operates this service across the entire six-county region, including Chicago.
Riders with disabilities may also want to learn about Pace's fixed route service, which is completely accessible to people with disabilities, and other reservation-based services which are commonly used by people with disabilities. Workplaces who employ many people with disabilities may be able to benefit from Pace's Advantage Vanpool Program, which enables the employer to provide transportation to clients/employees in a Pace van.
Scheduling a ride
Once certified for ADA paratransit, the number you call for a reservation depends on where you are traveling. See the directory of reservation phone numbers.
New to ADA paratransit? Not sure about the paratransit driver's responsibilities for your or your loved one's well-being? Click the buttons below for more details and answers to frequently asked questions.  
If you need any of these documents in an alternative format not already provided, please contact Pace Customer Relations.
Taxi Access Program
Riders who are certified for ADA can use Pace's Taxi Access Program (TAP)  for trips that begin in the City of Chicago. The TAP program is less expensive than paratransit and often more convenient because rides do not have to be scheduled the day before.
Fare
The current fare amount for an ADA paratransit ride is $3.25.
In addition to paying by cash or with the one-ride ticket, Paratransit riders can pay for rides through Ventra. While you're not required to use that method, this option benefits you by no longer requiring you to carry exact change or buy paper tickets. Learn how to get your account set up here.
ADA Paratransit tickets are not yet sold through Ventra; however, booklets of 10 tickets can be purchased for $32.50 at Pace's online store, at select retailers or through Pace's Ticket-by-Mail program.
Transferring to/from Paratransit
To transfer between paratransit services (including dial-a-ride) and fixed route buses, riders need to use Transfer Vouchers. See this explanation for details on getting and using that voucher.
Helpful information about ADA Paratransit
To help make paratransit services operate more efficiently for all riders, it is helpful if everyone knows the policies and procedures. The buttons above contain tips and answers to frequently asked questions.
It's easy to find information about your upcoming paratransit trips without having to call the reservation phone line. Pace's TripCheck service is an easy online tool that allows riders or their caretakers to view or cancel upcoming trips.
Even if you miss a paratransit trip, Pace won't strand you away from your home. See the full description of the missed trip policy and instructions on what to do if you miss a trip contained in the ADA Paratransit Service Guides linked below.
When you are scheduling your trip, the call taker will ask you if you have an appointment time. Let him/her know so they can schedule appropriately. Be sure to allow enough time to get from the vehicle to the actual appointment. For example, if you have to be at work or have a medical appointment at 9:00, but will need fifteen minutes to get to your desk or get signed in, tell the call taker your appointment is at 8:45. Pace strives to get all riders to their appointments on-time. However, because of factors beyond our control (such as traffic or weather), we have established an on-time performance standard for appointment arrivals of 90%.
Pace′s Reasonable Accommodations Policy spells out the obligations of Pace and its customers for all types of transportation services and public meetings.
If you believe your trip was excessively long, please let us know by submitting a report on the Passenger Ride Time Report page.
Chicago and Suburban ADA News
The Chicago and Suburban ADA Newsletters are geared towards the ADA Paratransit riders. These newsletters keep the ADA Paratransit riders informed of the latests Pace news. Click the button below to visit Pace's newsletters page where you will also find Pace's OnBoard newsletters geared towards Fixed bus riders.
Advisory committees
There are two ADA Advisory Committees who advise the Pace Board of Directors on issues relating to service for customers with disabilities--including fixed route service and paratransit. One is comprised of Chicago residents and the other is comprised of suburban residents. Each committee meets monthly.
Check here for information on the ADA Advisory Committees.
ADA Paratransit Late Trip Reimbursement Program
Pace reimburses customers who paid a fare for a paratransit trip with an excessively late pick-up. An excessively late pick-up is a one that occurs 60 minutes or more after the on-time pick-up window (30 minutes in both Chicago and the suburbs). Passengers must still pay their fare at the time of the trip, as always, but Pace will tally all late pick-ups at the end of each quarter and send a one-ride ticket per late pick-up to the rider for use at a later date.
If Pace, in our records, shows an excessively late trip for the most recent three-month period, Pace mails you reimbursement ticket(s) in the following month, along with a letter indicating the date(s) of your late trip(s). So, for instance, Pace tallies late trips in the period January-March 2021 and then sends the tickets in April 2021. Please note that tickets will be mailed to the mailing address you have on file with RTA. Sometimes home and mailing addresses differ, so we encourage you to make sure your mailing address on file with the RTA is up-to-date.