Transportation for People with Disabilities
Pace's fixed route bus and van fleets are all accessible to people with disabilities or health conditions, and our award-winning ADA Paratransit system and various local Dial-a-Ride programs offer service that is exclusively dedicated to this community.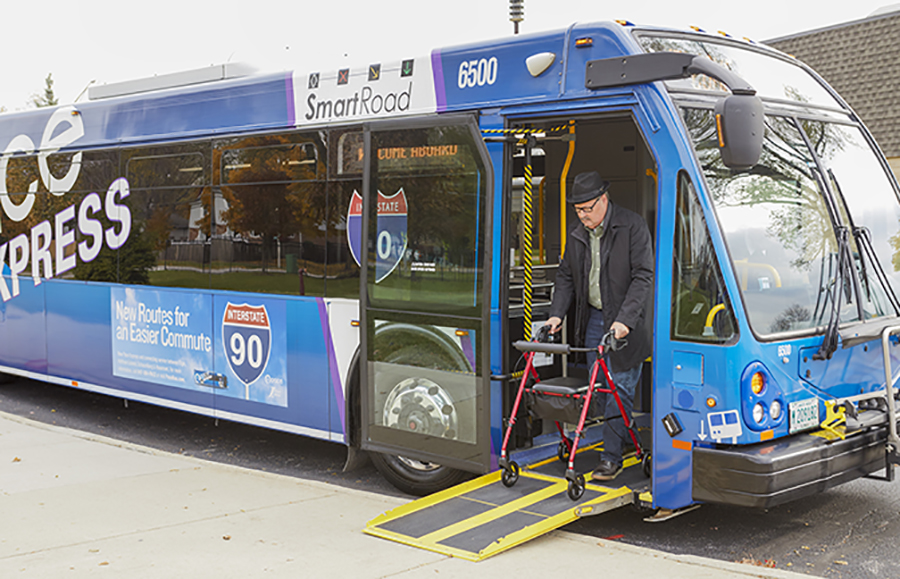 Pace operates a fixed route bus system which is entirely accessible to people with disabilities, and our sister agencies--CTA and Metra--offer accessible transit service as well. For senior citizens and people with disabilities, fixed route is a less expensive way to get around your community and gives you the freedom to travel without arranging a ride in advance. The Regional Transportation Authority offers a training program for those who wish to learn how to ride fixed route.
We also understand that fixed route service is not for everyone, and for those riders whose disability prevents them from using fixed route, Pace is proud to operate one of the largest paratransit systems in the world. "Paratransit" is the general term for a service in which a passenger must reserve a ride in advance. Unlike fixed-route service, in which buses travel the same route in a regular pattern and pick up any waiting passengers, paratransit services make only pre-arranged trips for eligible riders. See more about Pace's paratransit services here.
 
Customers must get certified to take advantage of ADA paratransit service or reduced fares.
More information:
In Chicago
Every CTA bus is fully accessible to persons with disabilities, and many CTA rail ("L") stations are as well. Pace is Chicago's paratransit provider. Customers whose disability or health condition prevents them from using Pace and CTA buses and trains are entitled to equal service under the Americans with Disabilities Act, so Pace provides ADA paratransit service whenever and wherever fixed route service is available.
Other services:
In the Suburbs
Pace operates more than 200 fixed bus routes in Chicago's suburbs. These routes connect millions of people to train stations, schools, hospitals, jobs, and other important destinations. Buses in this system feature ramps, dedicated seating, and other accessibility features. Certified ADA paratransit customers can ride fixed route buses for free!
 
Passengers who are sometimes or always unable to use our fixed route system are entitled to equal service under the Americans with Disabilities Act, so Pace provides ADA Paratransit service whenever and wherever fixed route service is available. Some villages, townships, or counties partner with Pace to provide expanded paratransit (Dial-a-Ride) service in certain areas. 
 
More information:
Training, Policies, and More Information 
Tools for Riders with Disabilities