For Employers
Financial benefits of offering commuting options to your employees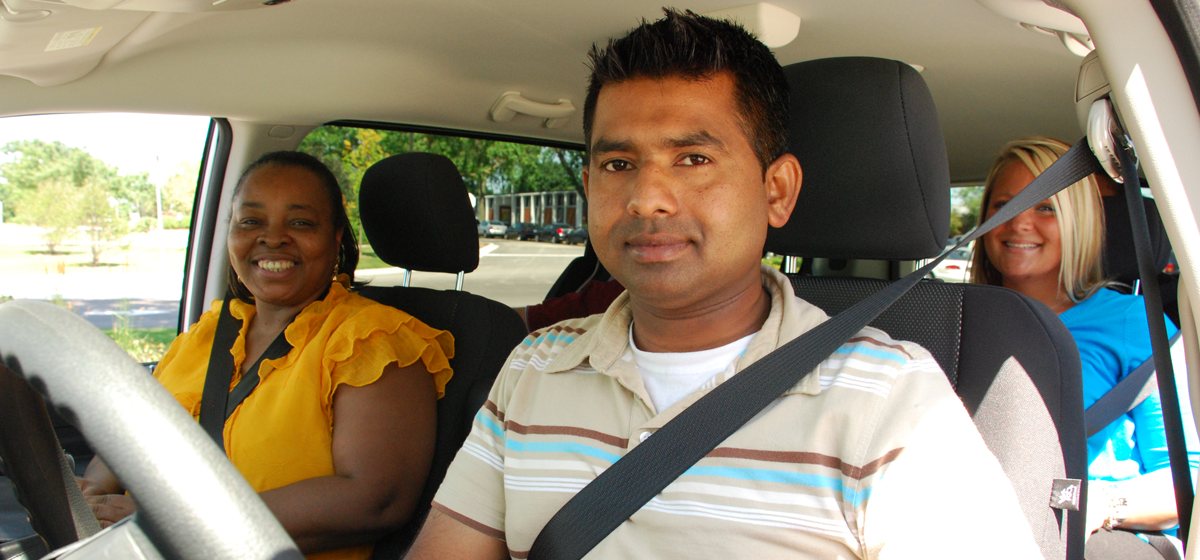 Commuter Choice Tax Benefits
This transit benefit program gives companies and their employees an opportunity to use pre-tax dollars to pay for bus, train or vanpool fares. The Internal Revenue Service Section 132(f) currently allows employers and/or employees to set aside funds each month before taxes for public transportation and vanpooling. Tax provisions allow parking costs to be taken as a tax-free fringe benefit for anyone who drives to work. Employees often save up to 40 percent (up to the authorzied pre-tax limits of $270 per month). Employers and Vanpool riders can learn more about this valuable program at www.mytransitbenefit.com
Read below to find out different ways you can offer employees commuting options, and take advantage of Commuter Choice Tax Benefits. 
Public Transportation
How do your employees get to and from work? Every day, more and more employers are realizing the financial benefits (to their own bottom line) of their workforce utilizing public transportation. Of course, it saves the individual commuter money as well. You can find out what bus or train lines travel near your place(s) of business here.
Pace Vanpool
In addition to traditional public transportation, another commuting option for your employees is Pace's Vanpool program. No matter what your company size or location,  Pace Vanpool can be tailored to meet the needs of your employees, and Pace can provide all the assistance you need. We will introduce the vanpool program to your employees, help encourage participation, and administer the program. You get the benefit of employees arriving at work with lower stress and more take-home pay!
There are a number of benefits to having employees participate in vanpooling:
Reduction in tardiness and keeps absenteeism down by providing a relaxing, affordable, and reliable way for your employees to travel.
Reduction in the number of cars at the worksite, freeing up valuable parking spaces.
Expansion of your labor pool by increasing access to your facility.
Adds a benefit to offer your employees at no cost to the company.
Savings on FICA and unemployment tax.
Employers may consider offering additional benefits to program participants such as:
Preferred parking spots.
Guaranteeing the driver and rider deposits.
Participating in the Transit Benefits Program, in which employees pay fares with pre-tax dollars through payroll deduction.
Did you know that employers incur no liability related to their employees participating in ridesharing? See the Illinois State law on that issue.
Employer Shuttle
Pace offers the convenient and affordable Employer Shuttle Program to help alleviate travel issues for those whose workplace is not near bus routes or train stations. The program supplies vans to employers, who in turn provide the drivers and pay a monthly fee to Pace to transport works from area transit centers to work sites. The program allows employers to offer an inexpensive employee benefit that helps recruit and retain staff.
A $600 monthly fee covers use of the vehicle, gas, and maintenance. The employer provides the driver of the vehicle and has the option of charging the employees a fee for the transportation service.
The agency renting our van shall provide and maintain insurance covering all losses, claims, suits, costs, demands, and expenses arising out of its provision of transportation services as required by Pace. The agency's insurance shall be primary, not contributory, and shall not be in excess of any other Pace insurance.
PaceRideShare.com
Pace offers a free regional ridematching system, PaceRideShare.com, which allows employees to register at no cost and access a list of people who match their commute. Participants in this ridematching system can form their own carpools or, if the group consists of five or more, form a Pace vanpool.
The site is a valuable tool to employers too. PaceRideShare employer administrators have access to pollution reduction reports and an email list of registered participants. Employers who offer a commuter program often increase the number of rideshare groups formed when they direct employees to register on PaceRideShare.com and provide other benefits such as priority parking or a transit subsidy. To learn more about rideshare or to become an employer administrator, visit PaceRideShare.com.
Pace Commuter Toolkit
Whether you are looking for a few posters or interested in setting up a commuter program, Pace is delighted to collaborate with businesses and organizations to introduce public transportation and rideshare options to employees. Pace hopes these resources help with educating employees on how to get to work as well as free up parking space, support LEED transportation credits, and reduce congestion and air pollution.
The Pace Commuter Toolkit is designed to assist employers with educating their workforce on their workday commute, starting or enhancing a commuter program and providing ready-to-use materials and money-saving resources.
Pace Commuter Toolkit contains:
Pace Community Relations Representative
A Pace Community Relations Representative can answer any questions about utilizing Pace commuter options, assist with setting up or updating an employee commuter program and provide in-person on-site presentations. To request assistance, please click button below.