I-90 Market Expansion

Traveling on the I-90 SmartRoad
Thanks to major rebuilding and widening work Illinois Tollway completed on the Jane Addams Memorial Tollway (I-90), Pace undertook several projects along the corridor between Rosemont and Elgin.
In December 2016, Pace launched the largest-ever service expansion in the agency's history, with the addition of six new routes, enhanced service on six other routes, and improvements to passenger facilities along the corridor. Twenty-five new buses serve the express routes, featuring comfortable, high-backed seats and top-of-the-line features. Riders can stow a briefcase in overhead containers, read using the seat's individual overhead light, charge a phone using our USB outlets, or browse the web using onboard Wi-Fi.

Buses traveling along I-90 are now able to use the new Flex Lanes whenever there is traffic. These lanes are available to buses and emergency vehicles and allow our passengers to avoid traffic on the highway. Flex Lanes are part of what Illinois Tollway calls the "I-90 SmartRoad". Learn more about the cutting-edge technology behind this project at Jane Addams Memorial Tollway I-90 SmartRoad.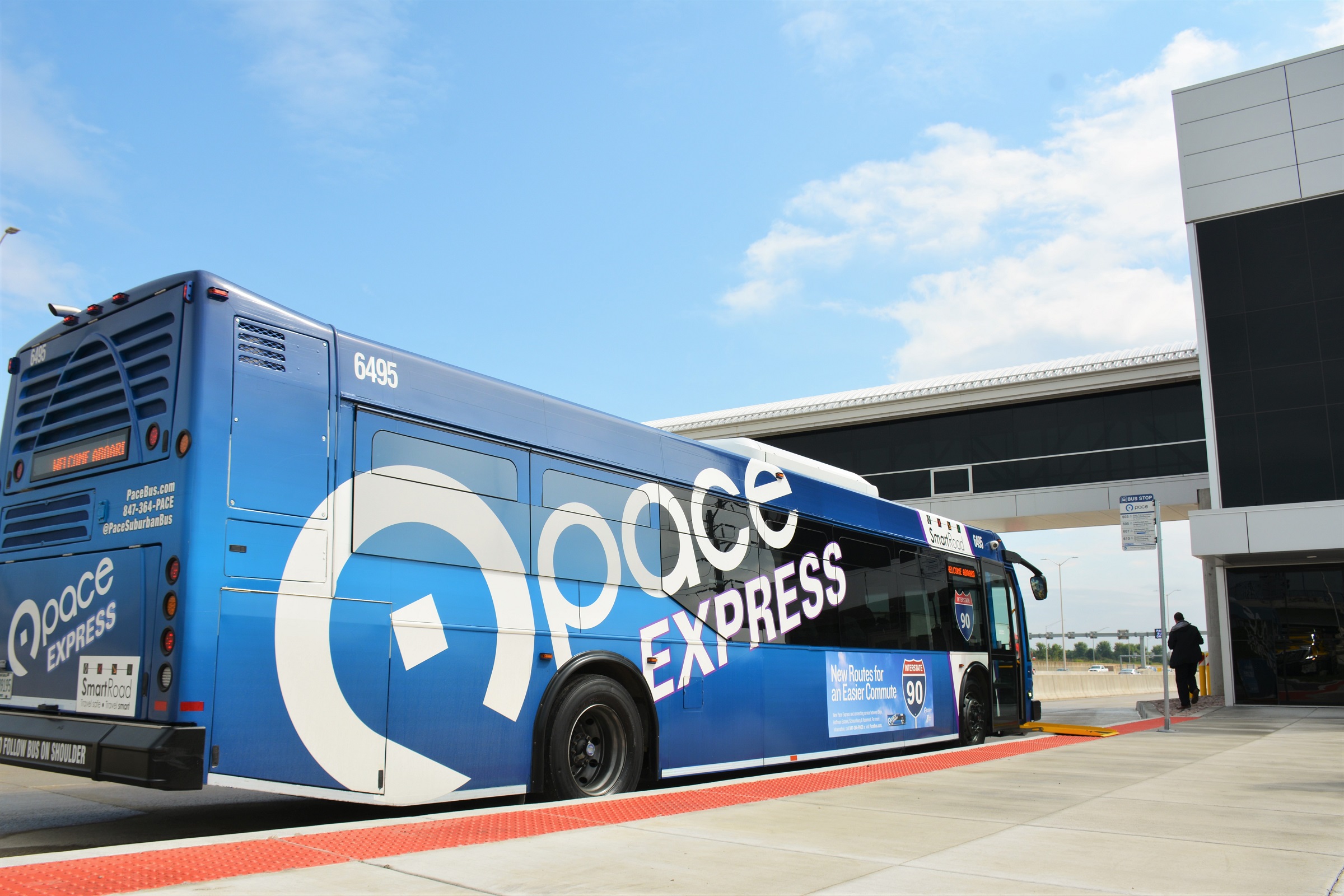 I-90/Barrington Rd. Station
On August 13, 2018, the region's first-ever highway-based bus rapid transit station came to Hoffman Estates when Pace opened the I-90/Barrington Rd. Station. This state-of-the-art station includes a 170-space park-n-ride lot and two "inline stations" (one in each direction) which allows express buses to pick up riders without exiting the highway. A pedestrian bridge over the tollway and two tunnels passing beneath ramps allow commuters to access eastbound and westbound buses with ease. The south side of the station features a transfer location to our Hoffman Estates On Demand service. The investment in walkability at this location connects Pace passengers to adjacent jobs and residences. Pace routes 603, 605, and 607 serve the inline stations. 
I-90/IL-25 Station
Open since December 2017, the Pace I-90/IL 25 Park-n-Ride Station further connects Elgin and the surrounding area to Schaumburg, Rosemont, and Chicago. This project also brought about improvements to the area's pedestrian infrastructure, with the installation of new sidewalks connecting the station to adjacent neighborhoods. This station's 199 parking spaces are served by Routes 603, 605, and 607. Route 543 on Dundee Road is only a short walk away.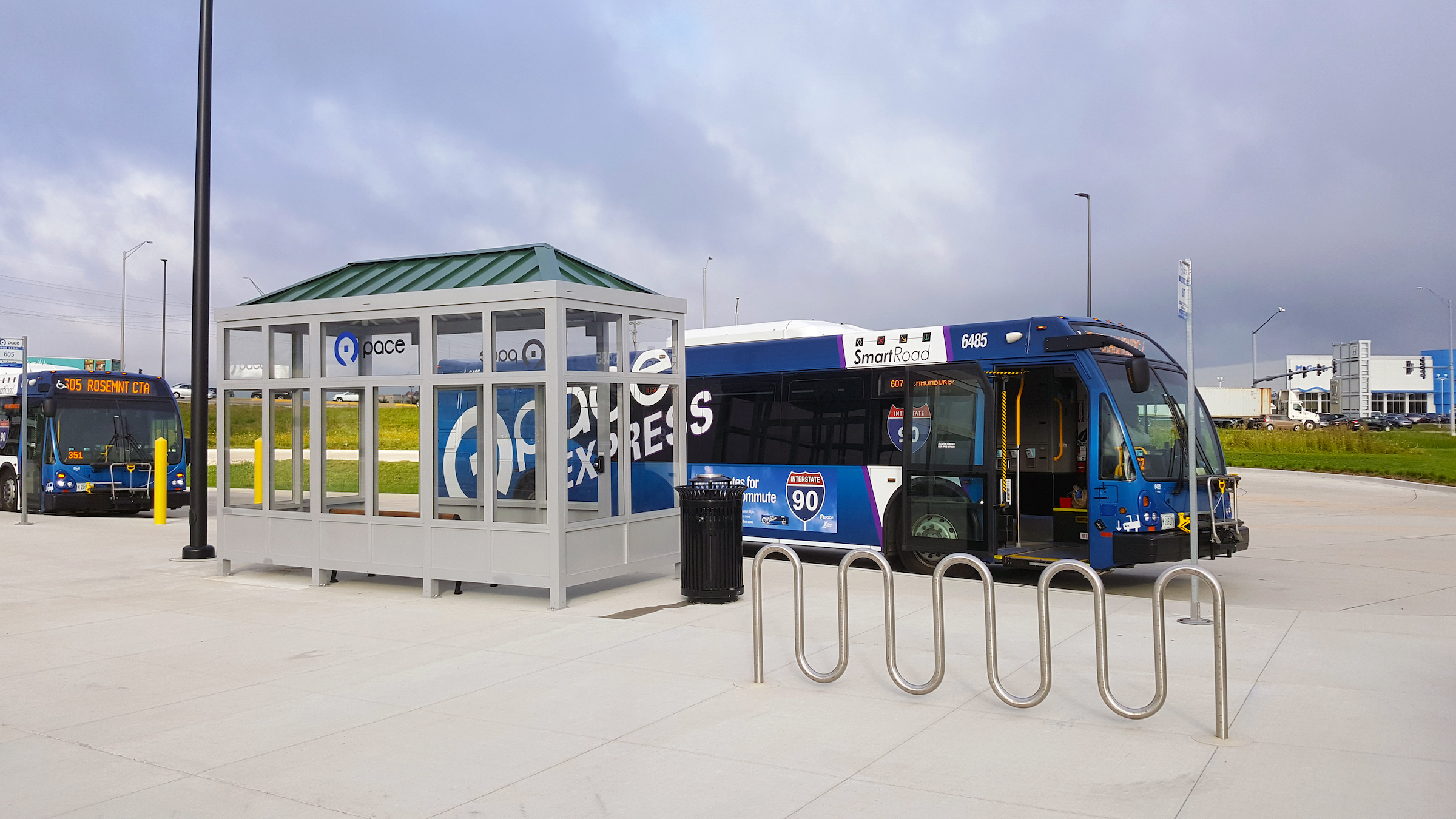 I-90/Randall Rd. Station
Featuring 150 free parking spaces, this facility is served by Pace Routes 550, 605 and 607. The express routes connect Elgin to Schaumburg and Rosemont (and to Chicago and O'Hare via the CTA Blue Line).
Project Awards
Pace's I-90 project has been a recipient of numerous transportation industry awards:

I-90 Tollway Expansion
Recognition shared with the Illinois Tollway:
Barrington Road at I-90 Interchange and Park-n-Ride
Recognition shared with the Illinois Dept. of Transportation, Illinois Tollway, Village of Hoffman Estates, Crawford Murphy & Tilley:
2019 Project of the Year, Transportation - Suburban Chapter, American Public Works Association (APWA) - see Pedestrian Bridge for Park-n-Ride
2019 Project of the Year, Transportation - Chicago Chapter, American Public Works Association (APWA) - see Chicago Project of the Year Award
2019 Lincoln Grand Conceptor Award - American Council of Engineering Companies of Illinois (ACEC) - Illinois Chapter's Highest Honor and Project of the Year for the State of Illinois - see ACEC-IL 2019 Engineering Excellence Awards
2019 National Engineering Excellence Award - American Council of Engineering Companies of Illinois (ACEC) - This honor award placed the Barrington Road project 17th nationally among 197 award winners
2019 Honor Award for Transportation - American Council of Engineering Companies of Illinois (ACEC) - see Innovative Interchange Integrates Pedestrians, Transit & Tollway