For Employers
Pace frequently works with businesses and organizations to offer FREE transit advice, outreach, and commuter program support. 
In the current ever-changing workplace, employers may be faced with:
Planning a relocation
Managing employees' return to the workplace
Expanding your workforce
Offering better flexibility in work schedules
Reducing the amount spent on hiring, training, and onboarding of employees
Strengthening employee engagement, attendance, productivity and retention
Maintaining a commuter program
Enhancing company culture
Supporting LEED transportation credits
Freeing up valuable parking spaces or reducing the need to provide more parking spaces
One of the best ways to successfully solve these challenges is to encourage employees to choose sustainable ways to commute by transit, in Pace Vanpools and carpools. Improving access to work, developing an employee transportation program, and helping employees reduce commuter costs by 40% can create a better experience for everyone.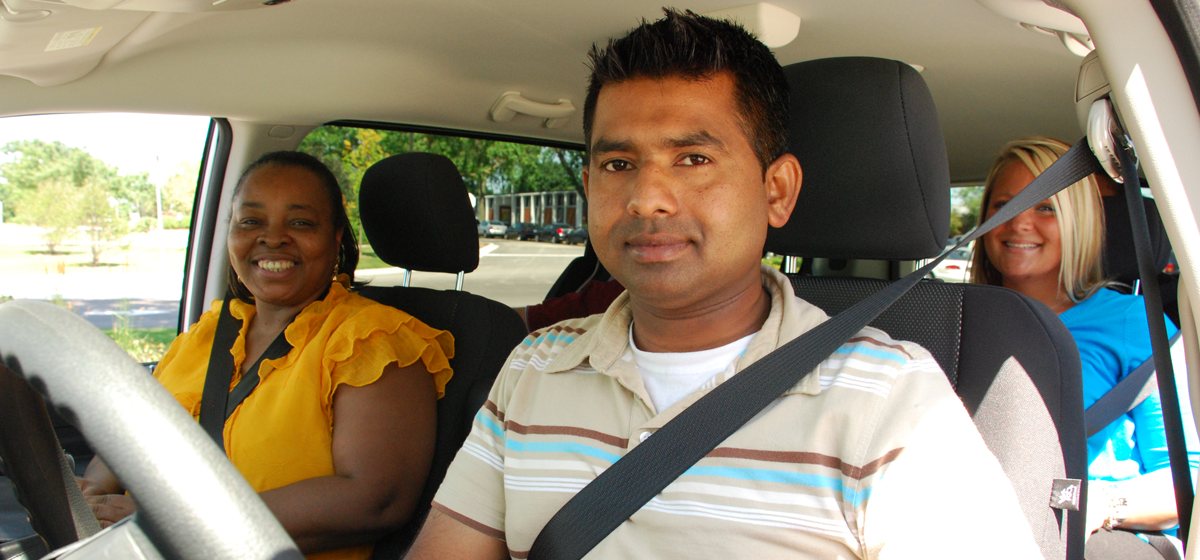 To attract and retain a top-notch workforce, many businesses are considering how to make getting to work stress-free and affordable for their employees. Your company and employees can take advantage of working with Pace on public transit solutions that save on employees' taxable income. This can lead to a healthier and happier workforce!
Pace bus passes, Pace Vanpooling fares, CTA and Metra train fares and parking costs can all qualify as benefits that employers can leverage and include in your employee benefit package without extra costs to your bottom line. A commuter benefit can save your business money, help you attract and retain a diverse, skilled workforce, reduce your turnover rate, and help your employees reduce their transportation costs. Additionally, it supports health and wellness and increases job satisfaction.
When setting up this program, employers are encouraged to coordinate with Pace to learn what transportation services are available to your business, develop user engagement strategies and how Pace can educate your employees about commuting options. Pace staff can provide a complimentary presentation to your employees explaining available commute options. Pace also offers ridematching support for Pace Vanpools and carpools and promotional materials for maintaining the benefit over the years.
For over 30 years, Pace has been working with businesses to help them develop transportation solutions to find and retain a stronger, skilled workforce. In addition to offering a commuter benefit, there are a variety of mobility strategies being implemented across the nation that might benefit your company. 
Here are a few possibilities to consider:
Adjust telework schedules or regular shifts so employees' shared rides by train, bus or Pace Vanpool can occur on the same days/times.
Coordinate with nearby employers and other stakeholders to create "first and last mile" solutions such as an Employer Shuttle, Traditional Vanpooling, Feeder Vanpool, carpooling, taxi, ride-hailing or bike riding 
Explore public transportation. Find out what bus or train lines employees can take to your worksite(s). Coordinate with Pace to determine if modifying an existing bus route is feasible.
Select a worksite in a location where public transportation options, such as train stations and bus routes, already exist. Consider the proximity to where your target workforce lives.
Supplement the commuter benefit by including incentives that encourage use of public transportation, carpooling and bike riding. Some ideas include: offering free transit passes, a guaranteed ride home for carpoolers, and facilities for bike racks, lockers and showers. 
Pace is here to provide the support, commute options and tools to help create, implement, and maintain a commuter program.
Pace Vanpooling is a flexible commute option that a group of 3-15 employees can customize to their work schedule. To get started, Pace can introduce vanpooling to your employees, help encourage participation, and administer the program. And you get the benefit of employees arriving to work with lower stress and more take-home pay!
Employers may consider offering additional benefits to program participants such as:
Preferred parking spots
Offering subsidies
Participating in the Transit Benefits Program, in which employees pay fares with pre-tax dollars through payroll deductions
Did you know that Illinois employers incur no liability related to their employees participating in ridesharing? See the Illinois State law Vehicle Code 625 ILCS 5/10-202.
Pace offers a free regional ridematching system, PaceRideShare.com, which allows individual commuters to register at no cost and access a list of people who match their commute. Participants in this ridematching system can form their own carpools or, if the group consists of three or more, form a Pace Vanpool.
The site is a valuable tool to employers too. PaceRideShare employer administrators have access to pollution reduction reports and an email list of registered participants. Employers who offer a commuter program often increase the number of rideshare groups formed when they direct employees to register on PaceRideShare.com and provide other benefits such as priority parking or a transit subsidy. To learn more about rideshare or to become an employer administrator, visit PaceRideShare.com.
Whether you are looking for a few posters or interested in setting up a commuter program, the Pace Commuter Toolkit is designed to assist employers with educating their workforce on their commute, starting, or enhancing a commuter program and providing ready-to-use materials and money-saving resources. By sharing commuter information often and with new hires, employees will be informed and prepared to respond to unexpected workday commute changes, resulting in better attendance and more productivity.
Pace Commuter Toolkit contains:
Getting Started is Easy
1. Identify potential commuter needs and the best service fit
2. Develop a commuter plan to benefit your bottom line
3. Create on-site events, presentations, and webinar
A Pace Community Relations Representative can answer any questions about utilizing Pace commuter options, assist with setting up or updating an employee commuter program and provide in-person on-site presentations. To request assistance, please click button below.