As part of the Vision 2020 plan to modernize public transportation, Pace developed an initial network of Pulse corridors intended to enhance mobility and regional travel options. Seven priority corridors were identified for development for a near-term time frame of approximately 10 years. These corridors constitute the Near-Term Priority Pulse Network. 
Among these near-term corridors, Pace has implemented the Pulse Milwaukee Line. The next three corridors currently in project development include Dempster Street, Halsted Street, and 95th Street. The specific current phase of project development for each line is depicted on the Near-Term Priority Pulse Corridor map below.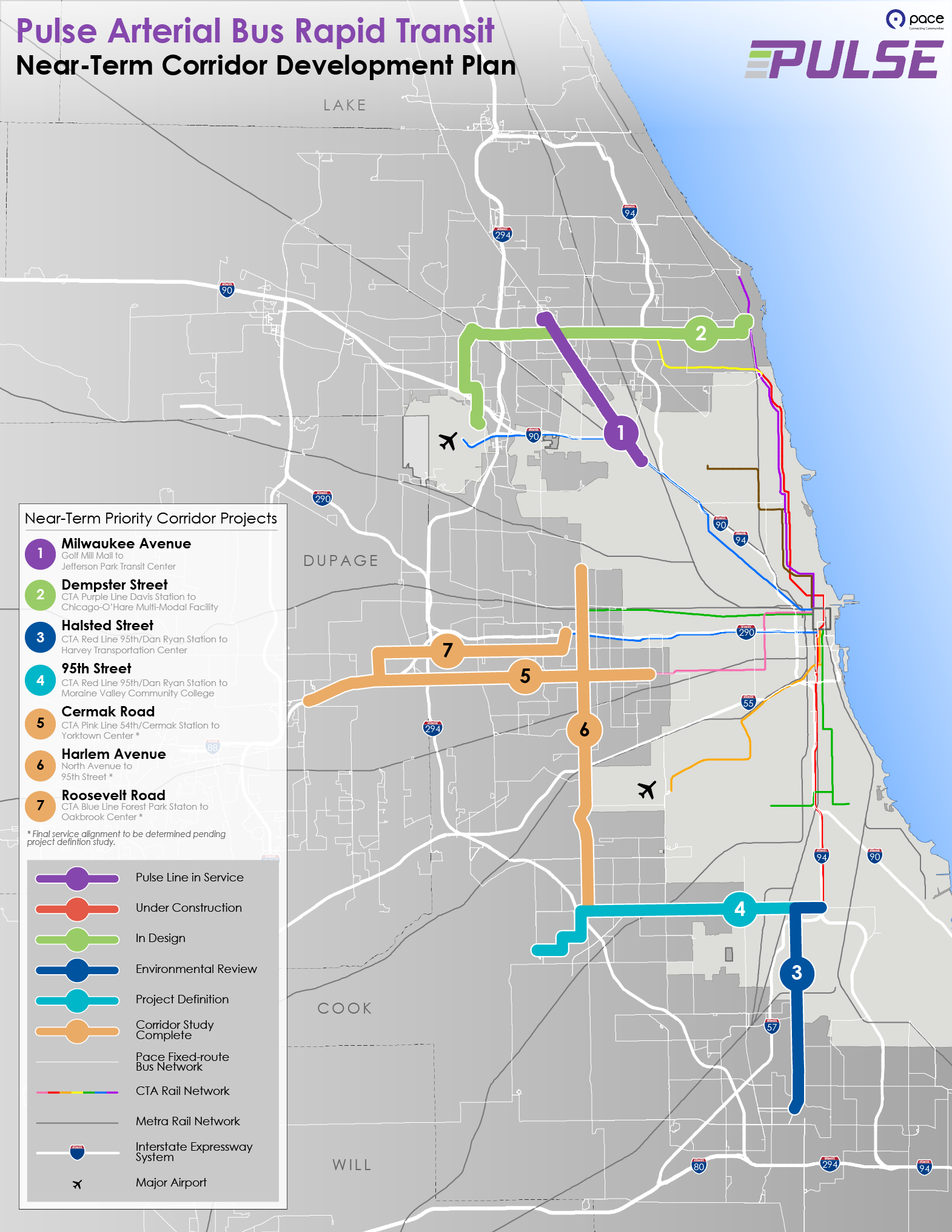 Future Pulse Corridors
Pace is actively studying what comes next after the seven Near-Term Priority Pulse corridors. The forthcoming strategic vision plan, Driving Innovation includes a recent review of the entire six-county area, which targets corridors where land use and current bus route performance may indicate the need for service and capital improvements. Pace expects to program some of these corridors into the Near-term Priority Pulse network, while others may be targeted for more limited improvements. Additional travel market research, planning work and community engagement, along with several Driving Innovation initiatives will help guide the agency in the selection of future Pulse corridors.
One such initiative calls for a Corridor Development program, which would formalize Pace's process for identifying, selecting and upgrading arterial bus corridors which may show promise for future Pulse treatments. Specific assessments would include those in the bullet points above, but may also be expanded to include new and innovative measures that target improvements to service, facilities, technologies and policies.
Each remaining priority corridors for future development have all undergone some level of corridor planning activities, which may include the following assessments:
Identifying potential Pulse station sites

Recommending sidewalk links where deficiencies exist and addressing deficiencies in the sidewalk network connecting to sites

Redesigning and improving pedestrian crossings, signals, striping, curbing and pedestrian infrastructure elements near station sites;

Ensuring compliance with federally mandated Americans with Disabilities Act (ADA) design requirements at station sites;

Selecting future station locations that take advantage of traffic signal priority (TSP) and other intelligent transportation system (ITS) technologies at key intersections;

Reconfiguring intersections, enhancing lane widths, advancing streetscaping projects, installing amenities for cyclists, reconfiguring parking spaces, and other roadway-specific improvements;

Implementing land use and roadway policies that support transit;

Assessing existing and future transit demand and markets within corridors; and

Identifying funding opportunities for implementation of recommendations.
Achieving Corridor Planning Results
Below is a list of corridor and other planning studies that support forthcoming planning work on future Pulse lines:
Beyond providing project-specific recommendations for these types of studies, Pace also regularly encourages municipalities and developers to incorporate the agency's Transit Supportive Guidelines. This document provides a range of design and policy solutions that support the operation of all Pace services, including Pulse.
Included with Pace's Transit Supportive Guidelines is the DRAFT program (Design Review Assistance for Transit). Pace transit engineers can provide complimentary technical reviews of preliminary transit infrastructure designs associated with new developments, roadway improvements, and other changes in land use and infrastructure. Pace encourages developers, municipalities, roadway officials, businesses and others contact Pace for assistance with planning and designing such improvements. 
Implementing Pulse Service
Pace continually evaluates corridors and tracks planned developments to ensure that investments enhance the transit system.
As part of the planning process, Pace assesses Pulse funding requirements and applies for state, federal and/or local grants for projects that are ready for implementation. Typically, these funds are used for designing the service, fulfilling federally-mandated environmental reviews, acquiring land, upgrading infrastructure, constructing stations and support facilities, and procuring vehicles. Given the level of investment associated with Pulse, Pace continues to look to local partners to support this service with transit-friendly infrastructure and development in order to maximize regional transportation dollars.